CA Bayonet Connectors (VG95234)
ITT Cannon's CA Bayonet connectors are known for their versatility and reliability, featuring a "reverse bayonet" coupling design. They are designed to VG95234 spec, making them ideal for a wide range of harsh environment applications. The series is available in various RoHS compliant plating options. With rapid mating and unmating through a positive quarter-turn bayonet locking mechanism, they offer exceptional vibration protection. Additionally, they boast IP67/68/69k environmental resistance, shock and vibration proofing, and solvent resistance as per VG95234 testing determinations. With approximately 140 contact arrangement options, these connectors provide extensive versatility for different requirements.
Features

Rapid mating and unmating by a positive quarter turn bayonet locking mechanism
IP67/68/69k environmental resistance
Shock and vibration proof. Solvent resistant (as per VG 95234 testing determinations)
Extensive variety of contact arrangements (approx. 180 layouts)
Searching for part specs, 2D drawings, 3D models (when available) or available stock?
Resources
CA Bayonet Sell Sheet
CA Bayonet / VG95234 Catalog
Military Ground Vehicle Sell Sheet
Plating Selection Guide
Tin Zinc J Plating Sell Sheet
CA Bayonet Assembly & Wiring Instruction Guide
CA Bayonet IP69K Assembly & Wiring Instructions Guide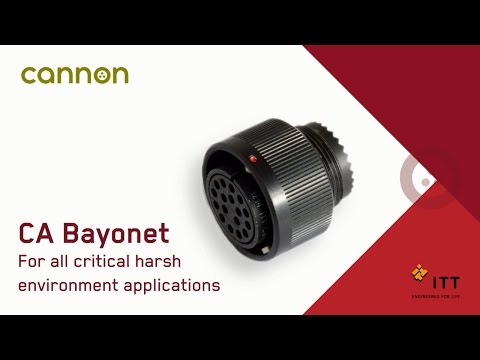 CA Bayonet Connector Series Video
Reverse bayonet interconnect qualified to VG specification that provides exceptional shock and vibration resistance.
Product Specification
Material
| | |
| --- | --- |
| Shell | Aluminum Alloy |
| Shell Plating | Cadmium (olive), RoHS Electroless Nickel, RoHS Zinc Cobalt (black), Zinc Cobalt (green), RoHS Zinc Nickel (blue, 500h salt spray) |
| Insulator | Polychloroprene |
| Contact | Material: Copper Alloy; Finish: Gold, Silver |
| Contact Plating | Gold, Silver |
Environmental
| | |
| --- | --- |
| Sealing | Environmental |
| Operation Temperature | -55°C to +125°C |
Electrical
| | |
| --- | --- |
| Operating Voltage | 50 VAC / 75VDC |
| Current Rating | Up to 245Amps |
| Number of Signal Contacts (Min/Max) | 2 to 65 |
| Gauge Wire Size | 0-26 AWG |
Mechanical
| | |
| --- | --- |
| Industry / Mil-Spec # | VG95234 |
| Shape | Circular |
| Shell Style | Wall Mount Receptacle, Cable Connecting Receptacle, Shielded Receptacle, Box Mount Receptacle, Straight Plug shielded VG & banding style, Jam Nut Receptacle, 90° Angle Plug, Thru-bulkhead Receptacle |
| Durability | 500 Mating Cycles |
| Power & Signal In Same Layout | Yes |
| Contact Style / Termination | Crimp, Solder, PCB |